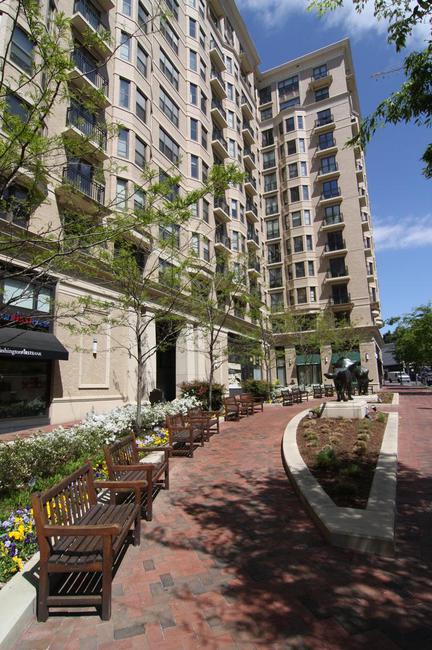 Garage parking. Modern amenities. The best location.
The Lionsgate is sophisticated, modern, and absolutely perfect for living the life of your dreams at the heart of a thriving city, where you have everything you want from a luxury condo to a rooftop terrace.
But in Bethesda, your location is a large part of what makes your lifestyle luxurious. And this condominium building has nothing short of the best location. Let's take a look at the luxury lifestyle that awaits in The Lionsgate.
A World of Experiences at Your Fingertips
Anything you need is within easy reach of your condo, which is located on Woodmont Avenue. This means the top restaurants, the best local shops, and premier entertainment venues are within a 10-minute walk or short drive.
Here's a map of the area that shows The Lionsgate's location and where the best shops, restaurants, parks, and theaters are close by. Take a minute and explore, or keep reading to find highlights of the best upscale amenities close to this condominium building.
Bethesda Row
The area's top choice for upscale shopping, dining, and entertainment, Bethesda Row offers all of your brand-name favorites and best boutiques in a beautiful and lively shopping district, including:
Apple Store
Cork & Fork
Kate Spade
Lululemon Athletica
Sassanova
The North Face
Urban Country Designs
Vino Volo
Don't forget about the fun events, either!
Bethesda Blues & Jazz Supper Club
Featuring live performances in a sophisticated and historic venue, the Bethesda Blues & Jazz Supper Club is a favorite for its fantastic music events and delicious food. It's very close to The Lionsgate for easy access, too.
Find Your Dream Home at The Lionsgate
You can learn more about The Lionsgate, including a full list of residential amenities and price ranges, on our website, or search through available condos for sale to see the luxury condos for yourself.
We can help you find the perfect luxury condo in Bethesda to match your lifestyle; just give us a call at 301.656.7700  or email brad@rozansky.com.